Artist:
Zeitkratzer
Title:
Performs Songs From The Albums "Kraftwerk" And "Kraftwerk 2"
Format:
CD + Vinyl
Label:
Karlrecords
(@)
The music of Kraftwerk needs less introduction than almost any other, and has been reinterpreted in dozens of different ways by everyone from Rammstein to Fatboy Slim to the Cardigans- and more than a few classical and avantgarde reinterpretations as well. Does this release stand out as bringing something new? Not really. Is it good fun and surprisingly successful? Yes it is.

Focussing only on the earlier Kraftwerk albums which had a thinner and arguably more abrasive tone, the ensemble of woodwind, strings, a couple of brass instruments, piano and drums faithfully recreates the barren soundscape that was originally electronic, in an almost exclusively acoustic way. It's admirable for its attention to detail and an excellent tribute.

In the parts with steady drumbeats, particularly the opener "Ruckzuck", the tone overall is reminiscent of Jeremy Deller's "Acid Brass" in some ways; live performance trying to emulate extremely quantized electronic patterns in a way that doesn't kill off the energy required for expression. If this takes the ensemble out of their comfort zone, then for the rest of the first side of the LP- "Spule 4", "Strom" and "Atem"- they are clearly on more comfortable ground with the sparse and experimental, occasionally concrète ambiences.

"Klingklang" is a highlight, becoming a jazz number at points with some lovely double bass and flute work. Final track "Megaherz" has utterly beautiful clarinet tones (I'm a sucker for a sad clarinet) over a distant bowed mood and is rather lush too.

While reworking Kraftwerk in a new context is certainly not a new idea, the very successful and faithful, restrained approach throughout "Performs…" makes it a welcome arrival and certainly worth hearing. Apparently a second tranche of reworked early Kraftwerk songs is imminent and will form a second volume to this work, and I'll certainly want to listen to it.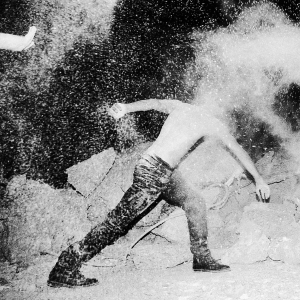 Artist:
Stromboli
(@)
Title:
Volume Uno
Format:
12"
Label:
Maple Death Records
(@)
Rated:
After their remarkable debut, Stromboli returns with an new release whose main characteristic, according to the liner notes, is "the introduction of the Revox A77 tape machine" which means to embrace a music aesthetics. Even if this is a minimalist project, the music is based on a short and concise form, instead of a long and apparently sloppy one, and this is at least a solution for the usual problem of this music which is brushing the boredom.
The rhythmic background of "Drag Phase" starts this release and the listener is suddenly overwhelmed by a barrage of sounds which are however always far from being a dull stacking until all the spectrum is fulfilled while "Downwards" is a sort of crossover between techno and meditative guitar music that has an hypnotic effect. The surrounding echoes of "Haunted" evolve in a sharp rhythmic pattern while "Drop" evolves around sustained tones vaguely reminiscent of early minimal music. The B side of this release is opened by "White Walls" which is even more minimal and abstract as it juxtaposed looping rhythm and drones while "Arrows" is as structurally complex with his many layers of sounds which are obtained with samples, drone and rhythms as it sounds apparently trivial ad a first distracted listening. The rhythmic cage of "Glow" evolves in a sort of drone that introduce the hypnotic mass of sound which is the core of a track like "Basedow Graves" whose final loop closes this release.
This is a release whose coherent development and relatively short duration shows how to obtain the maximum result with the minimum of the means and how a careful writing creates a sense of novelty in a codified form. Simply impressive.
Artist:
Golden Diskó Ship
Title:
Imaginary Boys
Format:
LP + Download
Label:
Karlrecords
(@)
"Imaginary Boys" is the third album from Theresa Stroetges under her Golden Disko Ship alias. The classically trained viola player uses her traditional instruments and voice as just two layers in a complex mash-up of slow instrumental synthpop and electronica with a decidedly quirky and rather playful collection of bleeps, chords and loops, over rolling clean bass tones and with guest appearances from indie guitars.

The whole album is mixed by Schneider TM, and if you squint your ears you could believe the whole thing is a mellow, slightly more ethnic Schneider TM mini-album- some of the steady, faintly chiptune-like rhythm programming and rubbery bass could easily have been Dirk Dresselhaus', particularly in elements like the shifting rhythm pitches of "Abandoned Chinese Fishing Village".

There's a fairly wide range of tempos and moods here- while opener "Flaming Flamingo" is a rather casual hello, it's followed by the more chase-music groove of "Pacific Trash Vortex" which sounds like a disassembled prototype of a mathematically-generated pop song. The verse-chorus-ish alt-pop of songs like "Wrong Beach" will appeal to fans of The Knife, or Roisin Murphy's weirder moments, while the closer "Lifelike Showdown" wanders confidently into Tangerine Dream territory and blends in some choral-ish chanting and brass for a powerful and unique finale.

It's got a lovely warm tone throughout, and while song titles like "Swarm Of Bees" might imply an abrasive and uncomfortable listen, it's absolutely anything but. There's a relaxed and casual playfulness and a rich chillout vein to it. A sterling bit of alt-pop with the emphasis on the alt and definitely worth a listen.
From the sound to the name to the artwork, Cybereign's "Dangerous Mind" is old-school electro through-and-through- a clipped programmed breakbeat, catchy stabbed bassline, thoroughly digital synthwave pads and a deep spoken word faintly Bambaataa-ish slow and sinister vocal. All the ingredients are present and correct in such a way that it's practically a walking cliché, but at the same time it's got a confident sense of minimalism and space about it that means it still works. It's lacking a major hook or unique selling point to really get your attention, but retro electro fans won't skip this one.

All five of the remixes are stylistically pretty close to the original, so much so that as a listening EP, you do wish there had been a remixer or two willing to spread their wings a little further. The Nessbeth mix pares things down, with a fun rubbery bassline and liberal use of delay.

The Dez Williams remix uses many of the stems practically unchanged, with only a more abrupt and staccato bassline and rhythm to distinguish itself, while the Coherer remix pulls in the other direction and makes things a bit brighter, heading (slightly) in a more funky, party-electro direction.

TechControl steps up the Kraftwerk-y groove. N-Ter's version- probably the best of the mixes- is still pretty faithful, with a bit more urgency, more gating and more acid squelch, and is most notable for the reprocessed (possibly even re-recorded) vocal.

A fun bit of old school electro, but a broader and more ambitious remix package would have helped.
Artist:
I, Poor Romantic
Title:
Cool oh no cool
Format:
Download Only (MP3 + Lossless)
Label:
Basserk Records
(@)
Dutch duo I, Poor Romantic's debut release is a pair of rolling-and-stepping moody broken-beat synth tracks, with steady slightly glitched rhythms underpinning deep rubbery basslines and atmospheres. Languid and smooth vocals from Marjolein have that casual "don't try too hard" half-spoken vibe that's very popular at the moment, with the long spoken word sections of second track "We Have This Recording" bordering on beat poetry.

These are slightly DJ-unfriendly tracks that fade in and out, thickly arranged and mastered to make them strong walls of emotional synth sound. As home listening tracks, there's perhaps a slight lack of variation that doesn't sustain an average of six minutes per track. However if these tracks are an indicator of an album to come, if the album is carefully refined then it could potentially be spectacular.