Artist:
Daniele Brusaschetto
Title:
Flying Stag
Format:
CDS (CD Single)
Rated:
"Ecstatic astonishment…" these words, found in the lyrics of the third track called "Splattering Purple", perfectly describe my reaction to this album.

"Flying Stag" is some kind of a thrash metal rooted songwriter's album – stripped down to drums, guitars and voice. It's loaded with catchy guitar riffs and odd meters, there's even a decent touch of djent and industrial here and there, with some kind of punk attitude in the mix.

It doesn't surprise, since Daniele Brusaschetto started off as a thrash and death metal musician in the 80ies. In the 90ies he took new creative paths and played in bands such as Whip (industrial), Mudcake (noise rock) and Down! (avant-garde/impro). With "Flying Stag" he goes back to his metal roots – with 90ies metal guitar sounds, versatile playing, catchy riffs and short solos. The drummer, Alberto "Mono" Marietta, is doing a truly impressive performance through the whole record - with an absolutely great drum sound! Almost modest in his playing (thereby giving a lot of space to the voice and the guitar) – always supportive, a very solid and straight forward drumming.

From the very first heavy riffs of the first song "Otherwhere" this album totally kicks ass! This track, 5 minutes long, takes interesting twists and turns in regards of structure. I would like to highlight here, that I absolutely loved the vocals on this track. It reminded me a bit of a Marilyn Manson kind of singing, paired with the the non-chalantly, charmingly snotty attitude of a rebellious, young Joe Strummer (The Clash), and yet, the singing is also soulful at the same time. This singing style took me by total surprise – in the best way possible – because it makes this record sound really personal - like a songwriter's album - which gives a creative contrast to the heavy intensity performed on the guitars and drums.
This contrast gets even more emphasized on the second song "Stag Beetle", especially in the mid-part of the song, when Daniele takes his voice to the higher register: it almost sounds like Peter Hammill singing metal. This is a wonderful momentum and I think, Daniele could do this more often!
The intro of "Splattering Purple" sounds like a metal tango dance between guitar and drums and then it totally leaps forward into the heaviness of oldschool metal as we heard it on the tracks before, but with different stylistics. This tracks also introduces Daniele's growling skills.
"Splattering Purple" is followed by the very intense and creative "The Unreal Skyline", which is my personal favourite track on this record. There are moments on this song which remind me a bit of the first record of Stone Sour. This track is really dark and rich in sound.
"Like When It's Raining Outside" is the longest track on the record (7:36 minutes), a very interesting, colourful song – revealing the arranging skills of Daniele. Then comes the maybe heaviest and angriest song of them all, called "Fanculo Mondo", featuring Daniele's maybe thrashiest guitar playing and also a lot more of his growl skills. The last track "From a Tight Angle" summarizes the "peculiar metal nostalgia", as I would describe this record, into one big final crescendo before "Flying Stags" leaves its listener in the aftershock of an "ecstatic astonishment".

"Flying Stag" is a bold album, skilfully played, but never ostentatious. Total headbang-material, oldschool metal and punk spirit with unconventional songwriting – a combination which makes this record so astonishing and almost, as I mentioned it before, a bit peculiar. At the same time, "Flying Stag" is a very honest and personal album of a versatile musician, who already walked a long journey of many different stylistic paths in music, and who is courageous and mature enough - as a songwriter as well as a guitarist - to insert experience and skills without bragging – and yet, without understatement either. His own musical language is balanced, rich and always present through all seven tracks. The album is very saturated in sound and ideas, but it never sounds like "too much". And best of it all: it absolutely NEVER gets boring! It's an album I loved to listen from the beginning to the end, four times in a row. The only thing I missed sometimes was the depths in the sound spectrum, due to the absence of bass, I guess – but maybe it's also just my listening habits and my personal love for low frequencies.
I am sure, the musicians had a lot of fun playing this music, this is obvious and a pleasure to hear. A big compliment from my side to the two musicians, Daniele Brusaschetto and Alberto "Mono" Marietta, who involve the listeners with their attention and curiosity from the beginning to the end. Absolutely recommended!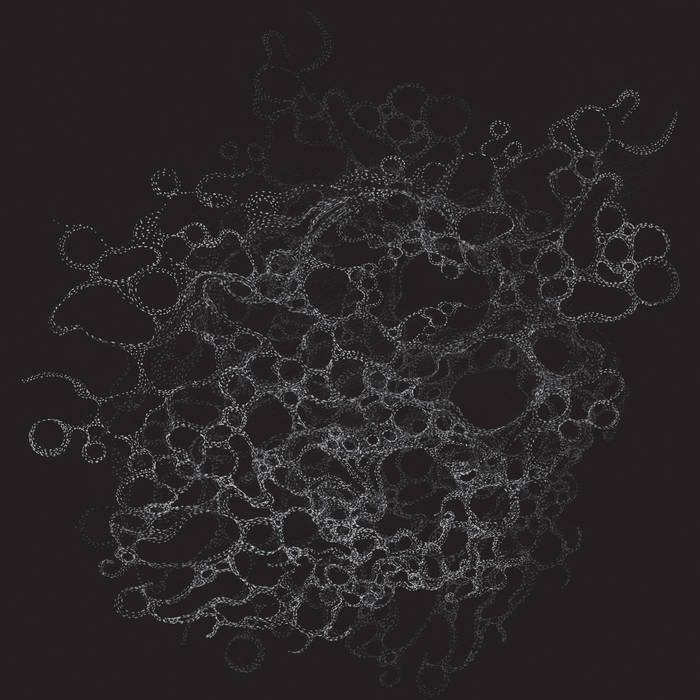 Artist:
Uhushuhu
(@)
Title:
Bones & Drones
Format:
CD
Label:
Zoharum
(@)
Distributor:
Alchembria
Rated:
While active from 2014, this is the first release by Uhushuhu which is one of the alias of Pavel Dombrovsky and so it's presented by the label with a focus on his activity both as a composer as an improviser; however Uhushuhu is a project focused on a form in between drone and ambient in such a way to obtain a form able to escape from the boundaries of the genres..
"Drones & Bones" is a piece lasting a little less than 45 minutes which is characterized by an use of field recordings, or found sounds, which is not a mere cosmetic patina on the drone but it's used to build an atmosphere that is always changing. This release lacks the primary issue of today's drone scene: the stasis bordering boredom; while this release if apparently static, as it hasn't a discernible direction, the sound palette varies so relentlessly that it needs a considerable attention, and repeated listenings, to catch all the elements which ebb and flow in the development of the track.
This is perhaps one of the best release in this genre for a simple reason: it shows a little bit of personality in a genre plagued by the adherence to a form which has the effect of making all releases sound flat. Listen with headphones is truly recommended.
Artist:
Katariin Raska & Christian Meaas Svendsen
Title:
Finding Ourselves In All Things
Format:
CD & Vinyl
Label:
Nakama Records
The debut album as a duo from these two performers, each with established CV's of band work, is underpinned fundamentally by contrasts. There are two works, one frantic and relentless, the other sombre and slow. There's a sonic pull between the high squeaking of Raska's Estonian bagpipe and the low growls of Svendsen's double bass. But this is clearly two performers in sync with one another, which is what makes it work.

"Melting With Butterflies" is fourteen minutes of pushing two instruments to their limits. The folky tones of the bagpipe are bent and abused so that they begin to sound variously like sirens, like animals or (less flatteringly) like balloons, while the intimately-recorded double bass is not just bowed but also scratched and tweaked. At times it feels like the duo are in a race to see who can either perform fastest, or break their instrument first. It's not a piece of music you could drop casually into, but fourteen minutes of it is long enough for it to establish its own baseline of what's sonically normal and let you adjust to it- just in time for it to abruptly stop.

Second piece "The Way Mountains Make Love" is consciously opposite. Long, low single bowed notes and drones are the order of the day, layered up in a conspicuously flat or gently undulating way that feels less like dramatic mountain tops and more like the never-ending tectonic pressure deep underground. As it progresses over 19 minutes, there's a degree to which it gets more melodic, more vocal-like, and gently lighter, as though harmony is gradually being found amongst the grit. It's romance, but on geological time.

It's a strong and deeply confident pair of expressions from a pair of talented performers playing around with ideas that are deceptively simple, but executed with precision and purpose that really shines through- and the result is eye-opening.
Artist: VV.AA.
Title: Territories vol. 2
Format: 12" vinyl + Download
Label: Polaar

This is a six-pack of remixes (well, five remixes and one VIP version) of Polaar artists collaborating. It's instrumental techno and electronica, broadly, with healthy doses of organic-sounding and sometimes tribal percussion generally placed at the core- but while it's officially dance music, this is smart stuff. I don't know of anyone who still uses the term IDM but if they did, this release would put the 'intelligent' into it- as exemplified by the sometimes 12/8 rhythms and regular mood changes of the opener, Flore's remix of Only Now's "Dirt".

Keito's take on Tim Karbon's "Aziz Lumiere" is heavy and pounding, and deceptively simple at times, but it gets under your skin, before the remix circle completes with Only Now's rework of Keito's "Bougainvillea" offering up a fast, subbass-driven manic grime swagger that feels like it's successfully juggling three tempos at once.

Nasty J "Réalité Alternativ" Tim Karbon Remix is a lighter recipe, still grumbling complex rhythm patterns but putting much more emphasis on almost-romantic synth pad chord patterns. SNKLS's "Isandula VIP" is liquid drum-and-bass territory rhythms but painted with glitchy electronica sounds, yet more lusciously pure subbass work, and some very brooding atmospherics in the breakdown, before the Prettybwoy remix of "SkyBurial" by Mars89 ends on a brighter note, again returning to the warm synth pads and a rather strange percussive sound that seems to be somewhere between a parrot and a seagull- but not in a bad way, amazingly.

This is the kind of dance music you would rather sit down and appreciate the details of, rather than waste time flapping your arms round to it. Rich, deep and complex, this stuff just oozes quality.
Artist:
Bit-Tuner
Title:
Passage / Irisia
Format:
Download Only (MP3 + Lossless)
Label:
-OUS
At two tracks and almost seven minutes, Bit-Tuner's "Passage / Irisia" single passed under my radar when it was released in November, but it came around again and has piqued my interest as a sampler for Bit-Tuner's forthcoming seventh album, out in January.

The main track passage is a cinematic bit of electronica built from expressive analogue synths and pads, mostly walking a steady and slow four-note rhythm that somehow feels more like an ending than a beginning, Found sounds such as industrial drills that have been softened and bathed in reverb to take the harsh edges away. The melodic pattern remains the same but different-sounding instrumentation gradually wanders into and out of aubibility, which is where the progression comes from- sometimes bell sounds, sometimes guitar-like noise, the change happens under your nose. Got some broody sci-fi end credits that need emoting over? Check this out.

B-side "Irisia" is only two minutes long and fades right in the middle of a change- a blatant and almost cheeky tease for the album I think. The melodic approach is not dissimilar but there's a much greater rumbling bass here, a sinister tectonic grumbling that feels like a dramatic opener, making the two-track digital release feel slightly back-to-front.

I may be a tease but it's certainly notable enough to put January's album release onto my 'items to check out' list.