Artist:
Zinc Room
(@)
Title:
Window of Erich Zann
Format:
CD
Label:
Zhelezobeton
(@)
Rated:
Zinc Room is a collaboration between Alexander "I" (Prognostic Zero, and label-head of Evil Dead Productions) from Ekaterinburg, Russia, and Kein (Sol Mortuus, Church of Howling Dog, ex-Thy Repentence, etc.), and this album, 'Window of Erich Zann' symbolically marks the past 10-year anniversary of the project's activity, containing containing several re-worked compositions from Zinc Room's 2004 debut, 'Cold Corridors of Fear'. My only acquaintance with Zinc Room comes from the review I did not too long ago of Sol Mortuus's 'Extinction,' a whole different animal than this work. While Sol Mortuus is along the lines of electro-acoustic ambient, Zinc Room is harsh noise dark ambient with black metal leanings. Quite a difference, eh? So if you're not up for that, you'd better move on, because no mercy will be shown for the casual listener.

Before we get into the music, we should consider the title - 'Window of Erich Zann,' which is based on a 1922 short story written by H. P. Lovecraft titled "The Music of Erich Zann". In it, a poor university student seeks lodging in a creepy old apartment building with few tenants. One of them is a mute German violinist named Erich Zann. Over time the student gains Zann's trust and discovers the old violinist has discovered melodies and rhythms of sound of an almost otherworldly nature. Zann plays these sounds to keep back unknown and unseen creatures from Zann's window, which is said to look out into a black abyss. One night, Zann's music reaches a crescendo, and the student, staring out the window in hopes of seeing the normal world outside, instead stares into an infinite abyss. The window shatters, and an unnatural wind sweeps through the room, carrying away all of Zann's music notes into the darkness, despite the students attempts at catching them. Fleeing the house after he finds Zann seemingly dead despite his body still playing the violin, the student escapes not just the house but the neighborhood entirely.

Now you may have a better idea of what you might encounter on this album, but you're still going to need a guide, and that's where I come in. Beginning with the title track, "Window of Erich Zann," a foreboding and low drone heralds some manic cello by Kein, along with a cacophony of of metallic noises set to stun on a variety of frequencies. Noise enthusiasts are going to love this novel opening. "Cold Corridors of Fear" (presumably one of the re-worked tracks from Zinc Room's debut) has heavy cello drone with repeatedly struck cymballish noise which eventually fades while thick drones emerge, both low amnd mid-range. More repeated, echoed noise strikes begin again, and after some rumbling, it fades out on a ring-modulated spacey synthetic drone. "Dust of J. Curwen" uses distorted noisy percussive bashing and roaring bass guitar for its rhythm over which unintelligible and nasty back metal vocals shout something ineffable while feedback squeals emerge now and then. "In the Night Beyond the Wall of Sleep" is a phantasmagoria of noise, drone and misery that will test your sanity. "V-29. The Temple" is a tumultuous storm of rumbling noises with some repeating bird-like higher pitched sounds interspersed. It eventually fades into low drone and creepy organ towards the end. "The Rats in the Walls" (title taken from another Lovecraft short story) is more black metal, driven by cello drone here. The heavy, bombastic distorted cello is not to be missed!

The titles of the last two regular tracks, "The Dreams in the Witch House" and "Landscape. At the Mountains of Madness" are also taken from Lovecraft stories. For the former, I really need to quote Lovecraft -

"His ears were growing sensitive to a preternatural and intolerable degree, and he had long ago stopped the cheap mantel clock whose ticking had come to seem like a thunder of artillery. At night the subtle stirring of the black city outside, the sinister scurrying of rats in the wormy partitions, and the creaking of hidden timbers in the centuried house, were enough to give him a sense of strident pandemonium. The darkness always teemed with unexplained sound—and yet he sometimes shook with fear lest the noises he heard should subside and allow him to hear certain other, fainter, noises which he suspected were lurking behind them."

The music is sort of like that, but maybe amplified a hundred times. As for "At the Mountains of Madness," a Lovecraft tale that has always chilled me to the bone, the repetitive rhythmic clanging, the wall of drone and feedback, and other dire elements all seem calculated to drive the listener insane.

There are two bonus tracks: "Grave Abyss," a sonorous dirgy bombastic track flecked with metallic noise, and "The Evil Clergyman," with distorted intense metallic rhythm over sinister black metal dark melody. It is relentless and unforgiving. Definitely not for the meek. Yes, this is an album for harsh noise aficionados and fringe black metal enthusiasts. All others beware. Lovecraft wrote a short story titled, "The Colour Out of Space"; perhaps Zinc Room, if they want to continue along these lines might do an album titled "The Colour Out of Noise", and yes, noise does come in different colors.
Artist:
Mira Drevo
Title:
Sledy na Snegu
Format:
CD
Label:
Zhelezobeton
(@)
Rated:
Mira Drevo is the electro-acoustic ambient project of Dimitriy "Skald" of St. Petersburg, Russia, and along with Pavel of the post-rock doom metal band Sequoian Aequison, they made this live recording titled 'Sledy na Snegu' ('Footprints in the Snow') on December 25, 2015 in the St. Petersburg Sound Museum (formerly Experimental Sound Gallery, ESG-21) for one of the nights of the "Alchemy of Noise" party series. One this recording Dimitriy uses synthesizers, a sampler, authentic field and ethnographic recordings along with acoustic instruments - flute, mouth harp, and percussion. Pavel contributes some gentle guitar, quite different from the band that he's in.

Considering that this is a single,lengthy track (a little over 32 minutes), and in all probability largely improvised, this is one remarkable piece of music. This isn't just your "drone on, and add a few other sounds to the mix" kind of ambient. This is musical ambient that seems almost an outgrowth of nature; a kind of melodic environment. And of course, performed on Christmas night (well, our Christmas, Russian Christmas is January 7th) what else would you expect but a winter piece? From the music though, you don't get the impression of icy cold, but rather a calm, placid, and nearly cheerful environment. I can picture snow gently falling, hear people walking through the streets conversing, the occasional cry of a snow-bird flying overhead, and other things you might associate with the lighter side of the season. Throughout the piece there is a slow-moving melodicism that is subtly woven through the ambience. This to me is what raises this piece above a lot of the ambient music of this kind that I've heard previously. In a way too, it is rather hallucinatory, but never what might be described as "mind-bending," but more "mind-flowing". Most of 'Sledy na Snegu' has no real rhythm track, except the last few minutes where there is a minimal beat, and the culmination of a psychedelic melody, like very, very laid back Pink Floyd. The only vocals are incidental dialogue in Russian, indistinct enough to just be part of the ambience. The whole thing is quite remarkable, and fortunately no applause was recorded, so unless you already knew (as I have told you) you would never know that it was live. This is the first and only thing that I've heard from Mira Drevo, but after this, I'm certainly up for more. A limited release available in two formats: 77 copies on pro-CDR in a cardboard slipcase, or 55 copies on cassette (even numbers white, odd numbers black). Worthy.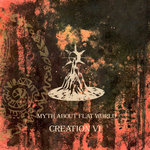 Artist:
Creation VI
(@)
Title:
Myth About Flat World
Format:
CD
Label:
Black Mara
(@)
Rated:
This release from Creation VI is based on the symbol of the Flat World which, according to the liner notes, was chosen as it's tied to a whole mythology whose sense emerged from the idea of a bounded territory whose third dimension, the mountains, was the dimension of Gods. The overall music results stand on that form of post industrial where the use of drone is mediated by the use of almost ethnic elements which give a sense of displacement as it were recorded on another continent.
A quiet drone opens "The Flat World" and the listener is slowly introduced into a sonic landscape where elements unfold from an apparently quiet ground. "Ancient Wind" uses sparse drum and flute sections to give a distant element of reality into a structure that could seem constructed. "Mountain Roots" starts as a sort of song as it features whispers as a sort of ritual. While the first part of "Keepers of Existence" is focused on the evocative properties of sound, his second part is focused on deep drone, in an almost didgeridoo register, to underline a sort of religious setting. "Beside The Tree of Life" closes this release with layers of drone to generate a sense of departure.
While it's not a ground-breaking release, this release features an almost mature sense of form and bases his form of the evocative properties of sound and a recognizable, almost reassuring, form. Perhaps not only for fans of the genre.
Artist:
David Toop
Title:
Entities Inertias Faint Beings
Format:
LP
Label:
Room40
(@)
Rated:
It's not the first time that while listening to some outputs by David Toop, I vividly perceived the sensation that he's one of those swimmers who could never tread water in his imaginary "Ocean of Sound", as his relation with sound (with any kind of sound) seems to be almost symbiotic. He could turn or translate into sounds, that he mostly grabs from surrounding reality, is not limited to data taken from sensorial overloads, but also to the highest spheres of critical thinking, philosophical reflections, mental fugues or spiritual alignments or misalignments. This skill has not been invalidated by three periods of solitude, which seem to have inspired the sonic rings he drew on the aural grounds of "Entities Inertias Faint Beings". In line with his thoughts on the essay as mentioned earlier "Ocean of Sound", he stated that the music of this release already existed in the form of spores or dormant clusters of digital files and the way by which he woke these clusters up is utterly enthralling from the intellectual point of view. The description of one of the above-mentioned three periods of solitude could render the stunning slideshows coming from his intriguing sonic aesthetics: "The first was in Queensland, on Tamborine Mountain (an aboriginal name), so silent at night that I listened to recorded music - Japanese gagaku, Buddhist ritual from Bhutan, Korean Confucian music – as if drifting into cavernous black space. Stepping into sleep, I saw a hypnagogic image - a transparent swimming pool suspended over the mouth of a volcano. I read Stephen Mansfield's book on Japanese stone gardens – "Successful stone arrangements seem almost alive, the elements conversing among themselves with an occult vitality, the call and response that has been noted between well-placed rocks resembling the chanting of Buddhist sutras"; daylight listening in chill air, hearing whip birds, butcher birds, noisy mynahs, kookaburra chatter, rainbow lorikeets; catapult elastic, I wrote, radio waves in a kettle, electric buzzers. On Queensland's Gold Coast I gazed at a distant humpback whale breaching out to sea, watched Yasujiro Ozu's 1934 silent version of A Story of Floating Weeds, listened to cicadas burst into life as a helicopter flew overhead.". A fascinating Plato-like sonic anamnesis produced by distillation and condensation of sleeping or just awaken beauty.
Artist:
Daniel Higgs
Title:
The Fools Sermon, Part 1
Format:
LP
Label:
Ideological Organ
(@)
Rated:
I've never been a great fan of Lungfish - the Baltimore-based post-hardcore band that profoundly marked the artistic path by Daniel Higgs-, as a matter of fact: even if they developed some interesting ideas from the exquisitely musical viewpoint, the lyrical content of their somehow pretentious songs never made that good of an impression on me, due to my personal mistrust for an excessively "flamboyant mystical hook" (to call it so). If you know some of the past releases by Mister Higgs, the smiling man (I do like that sort of panama hat, that looks like having been crafted and coloured by some imaginary hatmaker for gnome's market!) on the cover artwork giving that vague sense of reassurance that would inspire the desire to listen his tales nearby the fireplace, you won't be wondered by the way of storytelling he explores in this release, the first part of a sermon, which doesn't look like a proper sermon in spite of some biblical allusions (besides the matching between death, love and transformation, the listener or the addressee of the sermon got named as "Lazarus" at a certain point). Likewise Lungfish's songs, I'm not impressed by this sort of little poem: the succession of verses often get closer to the wondering of a fool, more than its supposed praying. I do appreciate the limpidity of vocal recordings, but I got mostly impressed by the way the sonic entities that run together Higgs'story-telling got interlaced to the semantic relevance of some lines, including the whooshing sound matched to the quotation of a "Warholian" banana peel amidst a set of supposedly fervid and vaguely raving mystical uttering. A follow-up got already released on a more limited edition on a cassette by Jimmy Joe Roche's imprint Ultraviolet Light, featuring Stephen Strohmeier, another skilled Baltimore-based artist on a Farfisa organ, but I've not checked it yet. In spite of my opinion on such a kind of works and shamanic-like outputs, I could recommend it as an interesting essay on story-telling and sonic inoculation; that could even resemble a sort of radiophonic nuance of some visionary spelling by William Blake or ancient bards. Copies of The Fools Sermon book (the whole poem) should be available on fountainsun.com, if you are interested in checking them.